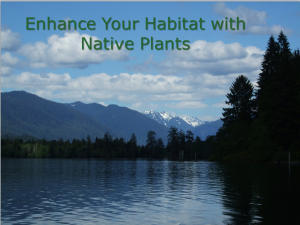 Dana is available for lectures & workshops in the Puget Sound region.
Speaking Topics:
Outstanding Native Plants for the Landscape   (1 hr. +)
Botanical Treasures, Unusual Native Plants   (abt. 40 min.)
Native Plants: Right Plant, Right Place  (abt 1 hr.)
Landscaping with Native Plants Suitable for Urban Gardens  (abt 1 hr.)
Edible Native Berries of the Pacific Northwest   (abt. 1 hr.)
Enhance your Habitat with Native Plants   (abt. 1 1/2 hrs.)
Creating healthy landscapes for people & wildlife  (1 hr. +)
Native Plant Propagation Workshop (2 hrs.)
Native Plant Identification Hike
…OR another "green gardening" topic as requested.

Fees:
$200 for 1.5-2 hour presentation or workshop, plus 50 cents/mile outside the Gig Harbor area.
$100 for 30 minute to 1 hour presentation (negotiable for school groups, garden clubs or non-profit organizations).