Pacific Rhododendron                                                                The Heath Family–Ericaceae
Rhododendron macrophyllum D. Don ex G. Don
(roe-doe-DEN-dron  mak-row-FILL-um)
Names: The Pacific Rhododendron is also known as the Coast Rhododendron, California Rhododendron, or California Rosebay.  Rhododendron macrophyllum literally means, "Rose tree with big leaves."  It is the state flower of Washington State.
Relationships: The rhododendron genus includes plants commonly known as azaleas.  It is a very large genus with about 1200 described species.  Most are found in China, Japan and neighboring countries; tropical species are found from Southeast Asia to New Guinea and Northern Australia.  Relatively few are native to Europe and North America.   The Rhododendron Species Foundation in Federal Way, Washington, which is dedicated to the conservation, public display, and distribution of Rhododendron species has about 600 species in their display gardens along with many of the over 28,000 cultivated varieties.  About 30 species are native to North America; the Pacific Northwest is home to only 5 species; two of which (Kamcahatka Rhododendron, R. camtschaticum and Lapland Rosebay, R. lapponiocum) are small prostrate shrubs from Alaska or Northern British Columbia.  The other 2 species will be discussed in the section on deciduous shrubs. Labrador Teas, Ledum sp. are also now often lumped into the Rhododendron genus.
Distribution: The Pacific Rhododendron is found west of the Cascades from southern British Columbia to Northern California.
Growth:  It reaches to about 24 feet (8m); taller in the shade than in the sun.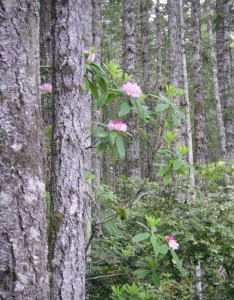 Habitat: It grows in in fairly dry open forests and edges. It commonly grows along roadsides in the rainshadow of the Olympic Mountains.
Diagnostic characters: The thick, leathery leaves of Pacific Rhododendron are oblong, 3-8 inches (8-20cm) long.  The pink, sometimes white, bell-shaped flowers are borne in showy clusters called trusses.  Each flower has 5 lobes with wavy edges.  Seeds are produced in woody capsules.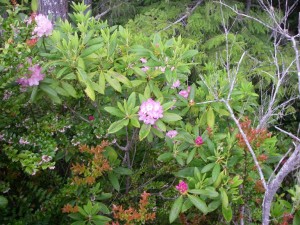 In the Landscape: Rhododendrons have long been a favorite of landscapers in the Pacific Northwest.  Although many may prefer the variety of flower colors, and forms in cultivated varieties, our native Rhododendron with its bold green leaves and spectacular pink flower clusters can find a place in both wild settings and more traditional landscapes.  Even those that steer away from rhodies due to the fact that they are so common in northwest gardens may be convinced to include this native species in their yard!  Pacific Rhododendron is also useful for erosion control on steep watersheds.
Phenology: Bloom Period:  April-May. Seed capsules ripen August to September.
Propagation:  Seeds do not require stratification, but require light to germinate.  Seeds remain viable for 2 years.  Collect softwood cuttings, May to September.  Wounding and dipping in an IBA hormone aids rooting of cuttings.  Peat and perlite is a preferred rooting medium; bottom heat and misting is also beneficial.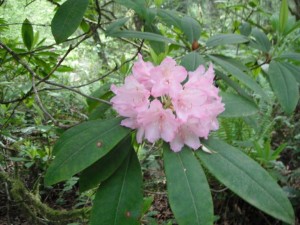 Use by people: Pacific Rhododendrons are of little use to people, except as an ornamental shrub. Flowers were used by natives as decoration, especially for dance wreaths.
Use by wildlife: This shrub provides all year cover for wildlife but has very little food value.  Deer and Mountain Beavers are among the few that browse on Pacific Rhododendron.
Links:
Consortium of Pacific Northwest Herbaria
WTU Herbarium Image Collection, Plants of Washington, Burke Museum
E-Flora BC, Electronic Atlas of the Flora of British Columbia
Jepson Eflora, University of California
Ladybird Johnson Wildflower Center
USDA Forest Service-Fire Effects Information System
Native American Ethnobotany, University of Michigan, Dearborn